Diary
Preparation for the trip started in earnest in early January, when Jacky and I started our courses of vaccinations (ouch!). Hepatitis A (two injections before we go and one in six months time), Hepatitis B (two injections before we go and one in a year's time, Typhoid (with the first Hep A), Polio, Tetanus, Diptheria (one injection for all three). Then a Cholera drink (two drinks a week apart) and finally Maleria tablets (starting a week before we depart).
25 January - Visited Reigate Grammar School for some photo's with Pete Townsend. Reigate Life are interested in covering our project.
27 January - Collected some very useful documents from St Francis School. I had discussed my trip and the things I was planning to do at the Mathieson Music School, Mrs Clerkin and her staff have been extremely helpful and provided me with many things that will help me.
28-29 January - Weekend spent in Devizes planning our activities for the trip.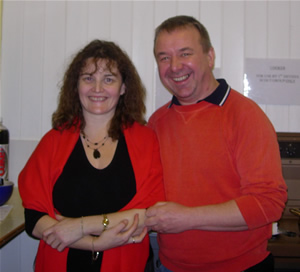 31 January - We took a trip up to London to meet with Anup and discuss our plans. Jacky and I are both School Governors and we hope to use the skills we've gained to help the Trustees fulfil their roles as directors of the Mathieson Music School. Over the course of our fortnight in Kolkata we will pass on what we know about curriculum frameworks, lesson planning, objective setting, monitoring and assessment, we'll take some lessons ourselves, and help with ICT and Music. We'll take the school on an outing on one day, run a sports day, and one day we hope to do the cooking. Shepherds Pie seems the most likely menu at the moment, but we may need to improvise and use goat in place of lamb. We're planning a short break in the middle of our trip, when we plan to take an overnight train to Darjeeling in the foothills of the Himalayas. Minus five degrees there are the moment, so we'll have to take some warm clothes (brr).
9 February - Jacky and I arrived nice and early for our plane from Heathrow and managed to sweet talk the check-in lady to upgrade us to.
10 February - We arrived safe, after a very comfortable flight at about twelve thirty. Deepok (the head of Music) met us from the airport and the most exciting taxi ride followed. Much better than any theme park ride I've been on. The driver knew the size of his car to the millimeter and, honking his horn the whole time, took us at speed through every possible small gap in the traffic. We broke down at one point but the driver and a passer by fashioned a repair using a strip of material ripped from an old rag to make a string. We made it to our guest house and were met by Anup's father-in-law, who was extremely welcoming. Having deposited our luggage, we were taken in the taxi (more slowly this time, but through the narrowest of streets) to the Mathieson Music School.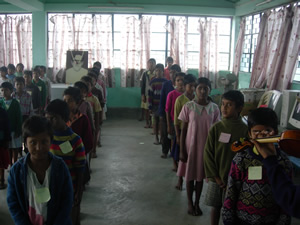 Our welcome at the school was marvellous. A quick tour of the school and a chance to say hello to all the pupils and staff followed by coffee, then an absolutely superb concert, at which we were given beautiful scented garlands of flowers to wear. The concert included choirs and various instrumental numbers plus some dancing. The children are very talented and the preparation that must have gone into this must have been considerable. As I write this, Jacky is reading the children a bedtime story.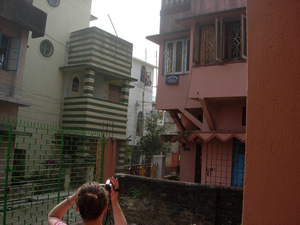 11/2/2006 - Having been woken up at 2am by someone phoning Paul's phone from England. We then missed our wake-up call at 6am. Ramesh, our landlord had kindly arranged for a rickshaw rider to be ready at our door for the journey to school, but we had to send him away as we weren't ready. We also blotted our copybook by locking Ramesh out of the room where his fridge is and leaving the fridge switched off as we'd borrowed the power socket to review our daily video diary. Fortunately, Ramesh is a very kind and patient man.
Rushed around to by out by 6:45 as the re-arranged rickshaw was now waiting outside. Fortunately the VERY cold shower ensured we didn't take too long. Rickshaw got us to school, only for us to discover that we had left have the things we needed back at the guest house. Breakfast comprised soft lightly toasted sandwich with yellow filling thought to be mango jam, but was mainly sugar.Jacky organised practice games ready for sports day next week, whilst Paul worked on the PCs. Ate an excellent lunch of dahl, and fried lentil and potato curry with rice.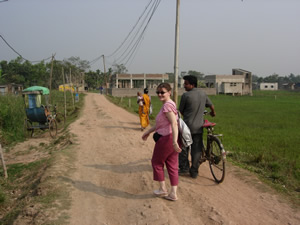 Unfortunately, Sushmita's warning was just too late to stop Jacky biting into a chilli floating in her dahl, leaving her without a sense of taste and a soar mouth for a couple of hours. Took taxi to Park Street in Kolkata.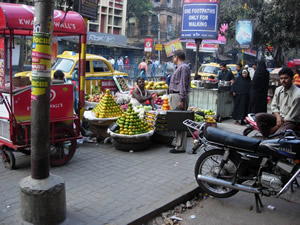 Arrived at Park Street for shopping – not very impressed. Took a taxi to New Market. Taxi managed about five miles for a 500 yard journey!
New Market was an experience!!! We were constantly bothered by men trying to be helpful. Saw the meat market and now Jacky is a bit dubious about cooking for everyone without causing food poisoning all round.
Had an exciting journey home. Taking two taxis to get us totally lost, and a third to get us to the Metro (only took about 1.5hours!). There is only one line, so we headed south; unfortunately not far enough so we still had difficulty getting home from the Metro station. Recruited a local to negotiate a special bonus to persuade a cappie to take us home. Even this cabbie was very unsure of the route and we weren't very confident he'd get us home. With a few stops for conversations involving us and passers-by, we finally made it!
A wonderful greeting back at the school, from the kids. Charlie and Hugo, the gap students at the school, had similar problems getting back from the Kali temple, where 150 goats had been sacrificed that morning. They'd missed the actually event but seen plenty of blood and guts still lying about the place; that's young lads for you.
Quickly ate another excellent meal of dahl, carrot and beetroot curry and rice (sounds peculiar but actually very nice). Home in another rickshaw, to rest before tomorrow's outing.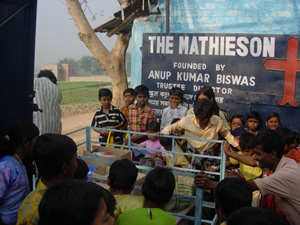 12/2/06 – Missed the alarm call again! Finally caught the rickshaw at about 7:15am.
Much excitement at school because of the outing. Had warm chick peas, a rice krispie like cereal with no milk, and cucumber sandwiches – strange but true.
The bus couldn't find the school and was unable to negotiate the road to the school from the village, so we walked with the children to the bus.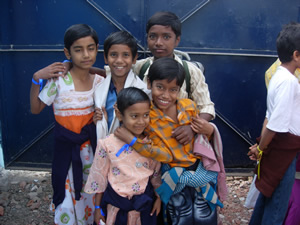 A long and interesting drive through Kolkata gave us plenty of opportunity to see the sights and chat to the children at length. I learnt a lot about Hindu Gods and temples from Arijit and got to know Darjeanie's love of flowers and trees, as well as her wicked sense of humour. We saw some incredibly poor dwellings near the Ganges and then the great river itself.
Arrived at a large Hindu temple, where the children were unbelievably well behaved, sitting still and silent on the floor of the ante-chamber while we waited for the inner temple to open. After leaving the temple, we collected our shoes and spent Rs 0.25 each to use the toilet (about 1/4p).
Got back on coach, which took us to the Botanical Gardens to picnic and have a look at the 250 year old giant banyan tree.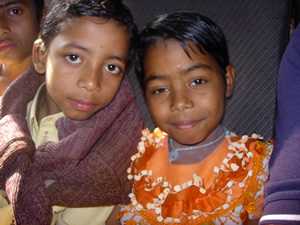 The cucumber sandwiches for our picnic had been made by the children on the floor of the kitchen, but we still all survived unscathed. The sandwiches were accompanied by hard-boiled eggs in the shell, banana, and a juice drink. This went down very well with everyone.
The banyan tree was suitably impressive, then we had ice cream cornets all round. 61 delicious cornets for Rs.305 (£4) can't be bad. There were only 60 of us actually, but a tiny little girl who wasn't with us at all just joined the end of the line and no-one had the heart to turn her away. We paid the bill as quickly as we could though. Just in case all the other little girls and boys in the park cottoned on and joined the line.
Sports followed, for two hours and we had great time! Games of badminton, cricket, frisbee, catch, rounders, football and drawing pictures all ensued happily and concurrently on the same piece of turf and, being India, the cricket match attracted a number of additional players, of all ages.
Arrived home in the dark and walked home from the village across the paddy fields. Back at base, Jacky ventured into the kitchen to help cook the dinner and learn how to make the most of the equipment. She started by falling off the 6" high stool but then successfully helped prepare the aubergine and potato curry.
The rickshaw rider got lost on our way home (he might have been ok had it not been for Jacky's navigating – she's still better at it than me though). Home about 9pm to quietly wind down, write up the diary, etc. Then to bed.
13/2/2006 – Breakthrough! Finally managed to work out setting the alarm clock and got up on time (6:15). After the coldest of showers we left for the rickshaw and arrived, without getting lost, arrived at 7:30.
First full day of work at the school. Jacky was busy monitoring and taking lessons. Paul worked on making the stock of computer more consistent, then assisted and monitored the two gap students (Charlie and Hugo) with some ICT based English lessons that they had prepared based on suggestions from Paul and Jacky. Paul also started working on an inventory of the ICT equipment.
Enjoyed a lunchtime concert. Soya and potato curry with dahl (again) for lunch. I really enjoy the dahl, which is prepared at the start of the week and then matures, getting ever more peppery (not quite to Jacky's taste).
Reviewed the day's events at a meeting with the staff and Gaps. The staff were very responsive to our suggestions. Had a cup of Chai and sugary pineapple jam sandwiches for tea then joined children for the private study time, before going home. Journey home was the most exciting rickshaw ride yet. Our driver was taking on all comers: pedestrians, cyclists, and at one point two buses. We only made contact with one lady, despite going through some VERY small gaps. Home by 8pm. Earliest yet.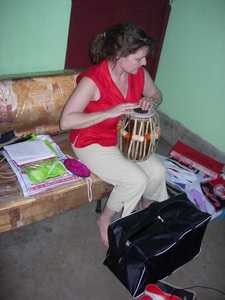 15/2/2006 Wednesday – Got up on time. Went first by foot with the computer, stopped off at computer shop to buy floppy disks. Usual bumpy ride on narrowest rickshaw yet did neither us nor the computer much good. Went to assembly then Jacky went off to the kitchen to prepare shepherds pie. Paul covered Susmita's lessons while she collected the lamb for the shepherds pie. Whole school were very concerned that there was no rice. First time any of them had eaten lamb or any meal without rice. Kitchen staff could not believe a recipe could possibly not be started with ginger and garlic paste or include chillies. Hugo and Charlie were extremely excited at the prospect of a taste from home. They mashed the potato with gusto and then served the meal to the children. After some very dismayed looks, the children, under threat from Susmita began to eat. Most of them enyoyed it; especially Sagoto, who came back for at least seconds. Once the jelly turned up, everyone finished their first course to clear their plates for the afters. They all had to eat the jelly with their fingers, but they and us found delightful. The staff were initially equally dismayed but eventually enjoyed it. The kitchen staff however, secretly added ginger, garlic and curry powder to their own portions and made their own stash of rice. Made banana custard for the adults who, for some reason thought it tasted of custard. The meal caused great excitement and Jacky was very relieved once it was over and pronounced a success. Paul spent afternoon working on PCs and Jacky took drama. Took the rickshaw home and Jacky went to bed while I went to Anup's sister-in-law's to sort out her broadband connection.
16/2/2006 Thursday – Paul persuaded Jacky to have a rest until 10:30 while he went on ahead to the school for the first part of the day. Even though Jacky had promised to wait for Paul to return to collect her, she made the journey to the school alone. Fortunately she arrived safely.
Jacky spent whole day working on timetable with Susmita, so Paul covered Susmita's lessons. Science with Class 4 was fine, Environmental Studies with KG was ok, even a combined class of Maths with Class 4 and Civics with Class 7 was manageable, but Paul did draw the line at the Hindi lesson to finish the day.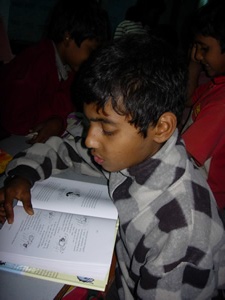 Lunch of fish curry with a curried cauliflower side dish, and the regular bowl of dahl. Paul ate Jacky's dahl. She can't cope with the idea of it being made on a Monday and stoed in a bucket to mature through the week. We discovered, to our relief, the fish did not come from the local washing ponds. School day ended with a very productive meeting but Jacky still made Susmita work a further hour on the timetable before taking the Autorickshaw to drop Susmita at the 3a Bus stand and then get a taxi with Alice to pick up the material we'd bought at the New Market and take it to her tailors for making into garments. While at the tailors we bought a couple more sets of material for Indian clothes and Paul bought 3 metre's of suit material, which we had to take to a different tailors for making into a suit. This purchasing involved two trips to the cash Paul complained about the cost of the suit material, between Rs.280 and Rs. 600 – this is about £3.80 -.£8.00 per metre and he needed 3m. Jack told him to get a grip, as £12-£24 pounds for a tailored made suit was not much. We of course had to go to another shop to have it sewn, which added £18 Paul still complained, whereas Jacky would've got two. Bought some melons and oranges as we'd missed dinner, for safety we only buy fruit that must be peeled. After all the commotion, Alice took us to her home, in the graveyard, which is really cool. There were about 15 homes around the edge of the graves. We met her family and were privileged enough to be invited in for tea. The journey home from Alice's was sobering as we went through some of the poorest places we have yet seen, with whole families living on the edge of the pavement or in makeshift shacks. Coffee and fruit for dinner, looking forward to Darjeeling and, of course, some hot water for washing. Ramesh tells us that our train journey will be quite an experience, with people walking up and down the corridor.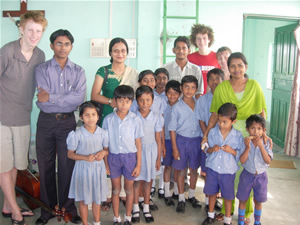 17/2/2006 Friday – Got up nice and early and took the rickshaw to school as usual; extra luggage today as we were planning to depart for Darjeeling directly from the school, soon after assembly. Took breakfast at the school, Paul did some work on the computers and Jacky continued the task of producing a new timetable then went to assembly at about five to nine. This was to be the first of regular Friday "Golden Assemblies" based on some suggestions from Jacky and me, so we were particularly looking forward to it. After a couple of false starts due to telephone calls, the assembly started off in the usual manner with the Lord's Prayer and an oather of allegiance, then a moral story (today's was King Midas). This was followed by each teacher nominating a child to go in the "Golden Book" for something they'd done well that week. Each nominated child came to the front, shook hands with all the adults then received a round of applause and a sweet. The first child was well known as the naughtiest boy in the school, but he'd been making a really good effort over the past week, both in his behaviour and his efforts in class. Overall, the assembly was a great success. We expected our car to arrived soon after assembly but in fact it didn't actually arrive until after 11:30 so we were filling our time doing little bits and pieces and getting more and more anxious; since our train would be leaving Sealdah station, on the other side of Kolkata at 1:35, and we were supposed to arrive at least an hour before departure. Car finally arrived at about 11:35 and off we went. After some more anxious moments in the inevitable heavy Kolkata traffic, we arrived at the station a little after 1pm. We found the platform for our train (the Tista Trosa) and were pleased to see a train waiting. However, when we asked the official with the green flag, he said this was not Tista Torsa.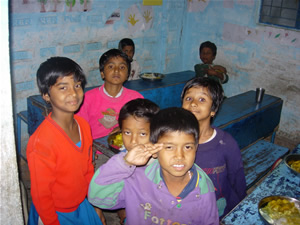 We managed to find the station master's office (after Jacky had tried to get directions from what appeared to be an information point but I think was actually an army recruitment desk) and he informed us that Tista Torsa had been delayed on the way down from Darjeeling and so would not be leaving until 23:00. Undaunted, we decided there was not time to get back to school for long enough to do anything useful, so we'd make our way to New Market for some retail therapy. Not usually my favourite pastime but Jacky has developed this into an art form and I can thoroughly recommend accompanying her on a trip to the shops. Having arrived at New Market, we fended off all the usual beggars and people trying to get you to go to their shops, bought a couple of ladies tunics and then found a shop selling Punjabi's for men, we wanted to take some of these home as gifts. Within a couple of minutes Jacky was surrounded by male shop assistants with most of the garments in the shop draped on counters all around her. After some considerable time, we had agreed an excellent deal on 11 punjabis, agreed to give one of the men my torch, which had come in very handing during a power cut that had occurred during our negotiations, and made lots of new friends. The man we had promised the torch to, begged us to go with him to his other shop. We did this and ended up in a shop selling bed covers. He thought we should buy one of these since, being my sister-in-law made Jacky my "half-wife" (wink wink) and we would surely need one. As it happened, Jacky was interested in a new bed cover, so the whole process started again and we promised to give him an answer on Monday, on our return journey from Darjeeling, when we would be calling in to pick up the punjabis.
Feeling hungry after our efforts, and still with time to kill, we called into the Grand Hotel. This is an old colonial hotel and is just about as classy a place as I've been in, anywhere in the world. Lunch and a beer cost us Rs.1500, a fortune by Kolkatan standards but only £20. After another quick sorte to New Market, we returned again to sit in the cool corridors of the Grand and get up to date on some school business (some work on the timetable, a call to Anup in England, and some instructions back to the school, reminding them of what we expected to see on our return.
Back once again to Sealdah station at about 9pm. Clearly, there was a train due for Darjeeling, so we pitched our spot on the platform and made camp. Sitting on the platform floor, we were easy prey to all the station beggars, but you just have to get used to that sort of attention in Kolkata! We were joined by a Spanish Hippy traveller called Eugenie and passed the time chatting to him. When the train came in and they put up the list of names for berths, neither our names nor Eugenie's were present. After another trip to the Station Master's office, we discovered that the train we were expecting to board was not "Tista Torsa"
at all, but the other Darjeeling train the "Darjeeling Mail". We were told that once this train had left, "Tista Torsa" would be arriving. This time we quickly found our names on the list and made our way to our berths. The bunk and toilet facilities were a challenge but, on Charlie's advice, we'd pre-dosed ourselves with immodium to avoid the need to use the facilties. There was no-one in the other two berths in our compartment so we didn't have too bad a night. Wasn't helped though by the numerous beggars who kept entering our compartment and the luggage being chained where Paul's pillow ought to be, to avoid pilfering. Still, we managed a lie in 'til 9am.
18/2/2006 Saturday – We were met at New Jaipur Station by Paul, our tour guide. We invited Eugenie to join us for the three hour jeep ride up precarious mountain roads to Darjeeling.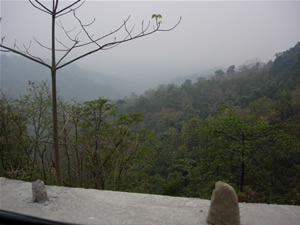 The hotel was a superb throwback to the time of the Raj; really luxurious. There was a bit of a panic however, when Jacky thought there might be no hot water. Thankfully this was a false alarm and we were soon both enjoying lovely hot baths and showers. Hotel staff were numerous and very attentive. Our houseboy soon had a roaring fire going in the fireplace. We were the only people in the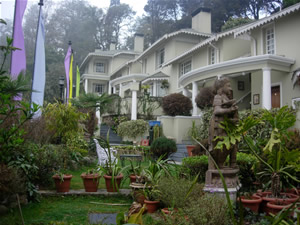 restaurant and so the chef insisted on us trying all eight dishes on the day's menu, plus chapattis and poppadums. Jacky still found room for a delicious chocolate soufflé though.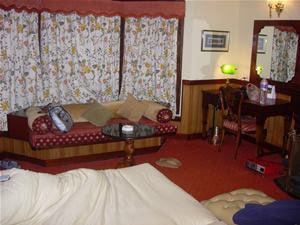 19/2/2006 Sunday – Up at 3.45am to get the taxi to Tiger Hill to see sunrise over the mountains and mount Everest. Unfortunately, clouds meant we saw neither but the crowds of people were determined to take photos and so most of them chose to have their photo taken with us; Jacky in particular. I think they must've thought she was a film star.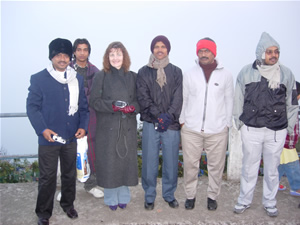 We also made friends with a very pleasant young local lad named Rogun, while we were there and we exchanged email addresses. We free-wheeled back down to Darjeeling in the taxi and visited a Buddhist temple of the Yellow Sect; most interesting. Back to the Hotel for breakfast at 8am. Porridge for Paul, strawberry cornflakes with hot milk for Jacky (didn't go down too well). Then boiled eggs toast and melon, lovely.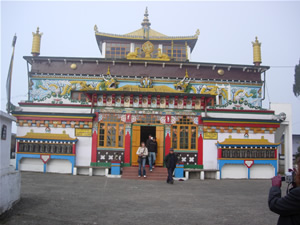 Paul suggested to Jacky that they could spend the day visiting the local art gallery, gardens, etc. or go white water rafting. To Paul's surprise and delight Jacky was really keen to go white water rafting, so that's what we did. We only had one change of clothes so we asked our taxi driver to take us to a clothes shop enroute and since we were the only two people made enough to go on such a cold day (8 degrees) and had been required to pay for two extra places in the raft, we invited our taxi driver to join us, which he did enthusiastically. The rafting was really exhilarating and we even had a swim in the river. The barefoot walk up a steep hill through a messy farmyard afterwards wasn't too pleasant, but it certainly didn't spoil a great day out. On the 1.5 hour hill climb back to our hotel, the taxi driver had to stop the jeep to cool the engine, so we stopped at a café, where Paul drank a cup of the sweetest tea you can imaging and Jacky struggled to remain in such a dirty stop for any longer than necessary.
Back to the hotel and an early night as the plane back to Kolkata is scheduled for 8am tomorrow and there's a 3 hour drive to the airport.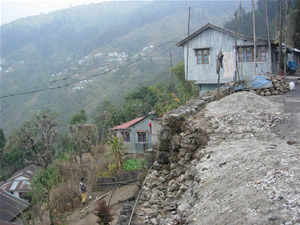 20/2/2006 Monday – Awoken by the alarm at 3:30 am only to discover that the plane has been delayed until 15:00. Back to bed for the rest of the night's sleep. Made the most of the last hot shower we were going to get for a week, then another porridge and eggs breakfast before the drive to the airport. Due to a road block, we had to negotiate even more precarious roads than on the journey in. At one point we seemed so far off the beaten track, high up in the mountains that Paul began to think we might be being taken hostage by some mountain guerrilla outfit.
Eventually arrived safely at Bagdogra airport and flew safely back to Kolkata. This was actually the first time we'd seen blue sky since arriving in Kolkata a week earlier. In Kolkata the air is so dirty the sky is constantly a brownish grey.
On landing we were met by our driver and hot-tailed it quickly to New Market to pick up Friday's shopping. Did a great deal on the bed cover for Jacky (even though Paul came away with completely the wrong one and Jacky had to exchange it for the correct one) and parted with Paul's torch as promised. Back in Kolkata, we quickly remembered how gritty the air is as our eyes started to itch and hurt. Made a detour to buy an English to Bengali dictionary for the Sam the Bengali teacher and were taken to an amazing book market by our driver. There were streets and streets of nothing but bookshops. As we were in the area, our driver insisted on taking us to see his old school, the Sanskrit College and although we were pushed for time it would've been rude not to take an interest. Gave up plans of getting back to the school that night when our taxi suffered a puncture. So we went straight to our guest house for a night's sleep.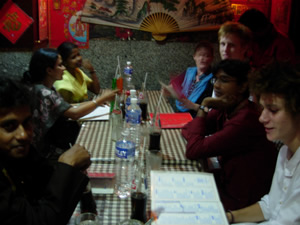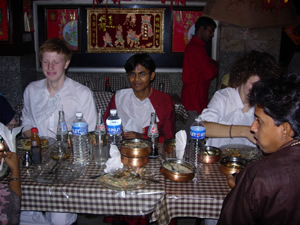 21/2/2006 Tuesday - We had quite a lot of things to take to the school today, so Jacky insisted on a rickshaw each. Paul felt that this was a terrible extravagance but, when the boss says jump, you just have to jump. We'd bought Punjabis for Hugo and Charlie and they quickly went to try them on. Very smart they looked too. There was a lot to fit in today as tomorrow would be our last day and sports day to boot. Paul spent nearly all day with the computers, getting as many as possible to work, creating a common file structure, establishing some backup procedures and training some of the teachers. Jacky was busy with the inventory of equipment, the timetable, taking some lessons and setting up procedures to ensure that all the good things we'd started would carry on after we'd left. Once school was fininshed we took all the teachers and the gaps to a Chinese restaurant for a meal to thank them for their co-operation. This went very well and, for ten people, cost us Rs.1500 including the tip.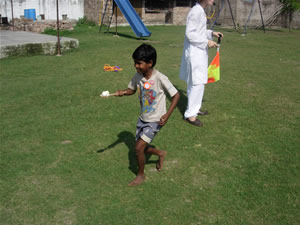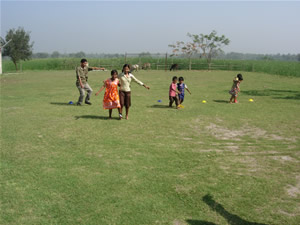 22/2/2006 Wednesday - This would be our final day at the school, and Sports day. The children were divided into teams: Cows, dogs, cats, lions and sheep. All the events were relays (three legged, egg and spoon, running, obstacle, etc.) except for the scavenger hunt and the welly throwing, which was an adults event. Paul is convinced that he threw his welly the farthest but, being left handed, it went in a completely different direction to everyone else's. We had to curtail the event a little as the temperature was over forty and the humidity very high. Nonetheless, it was very successful and much enjoyed by all. Dogs and Cows came joint first and a prize giving, thank you speeches and gifts followed the games. Among these Sotesh, our chef, received a tall chef's hat we'd managed to obtain from the chef at the Mayfair Hotel in Darjeeling, and some large tea cups as, due to the fact that Paul always went back for a second cup of the chai Sotesh made, Sotesh had manged to dig out an old but large cup expecially for Paul.
We were too late leaving school to catch the usual pedal rickshaw so we took an auto-rickshaw back to the guest house. We arrived home to realise we'd left our jeans at the school so had to return for them. Three times the fair, so I think the auto driver was happy. Just time at the guest house for a shower before the car arrived to take us to the airport.
23/2/2006 Thursday - Started the day at the airport having had no sleep at all. Went through all the usual security checks and boarded our plane just before 3am for the flight to Mumbai.
Arrived safely at Mumbai Airport and picked up our complimentary car to the Midland Hotel. Signed in at reception and were met by about four porters who quickly balanced our cases on their heads and lead the way to our room. Paul had a bit of a battle with one porter as he wanted to carry Jacky's precious tabla drums himself, for safety's sake. Our room was not posh but comfortable and clean. After a couple of coffees a shower and an hour or so's rest, we hired a car and a guide for eight hours so that we could take in the sites of Mumbai. Rs.1800 (about £20). We drove through a large Moslem area where there were loads of goats on the pavements and past what we were told was the largest slum in Asia. Mumbai was quite different to Kolkata. There were signs of vast wealth in Mumbai, cheek by jowl with even more extreme poverty than we had witnessed in Kolkata. We read in the guide book that our guide had lent us, that Mumbai was a city of 16million people, 20% of whom live in the slums. The first tourist spot on our itinerary was the Gateway to India. A large arch build on the dock side to commemorate a visit by Queen Mary, wife of George V. The building was completed in the twenties and stands on the site of an old shack which was a shelter for British sailors arriving in India. Soon after leaving the car Paul received a blessing from a holy man. He managed to bargain the price of this blessing down to Rs.15 from Rs.200. Jack saw a street vendor selling large balloons and wanted to buy some for a party she's planning back in England. After some serious bartering she bought the balloons for a reasonable price. Two minutes later, she was approached by another balloon seller who pointed out that she'd been conned. The balloons she'd bought were not the big ones we'd seen inflated but smaller versions. He had the big ones. Jacky thanked the man for pointing this out, negotiated a good price for his big balloons and we went away happy. Soon a third balloon vendor approached us and explained that his balloons were bigger than the second vendor and were actually the ones we'd seen inflated. A third transaction was completed. Not long after, a fourth vendor approach us with a similar tale and a fourth purchase was made. When the fifth vendor came to us, Jacky was exasperated. She extracted all her purchases from her bag and spread them out accross the bonnet of a car to explain that she REALLY didn't want any more balloons. I think the passers by thought she was setting up her own stall as quite a crowd gathered.
We were just outside the Taj Hotel, one of the top ten hotels in the world, so tea at the Taj seemed like a good move to wind down after the excitement of the balloons. We sat down to a nice cup of tea and breakfast but were not especially impressed. Then we discovered that we'd gone to the Old Taj not the New Taj next door, which was the hotel in question. Never mind.
After a tour of the sea-front and all its ostentatious wealth, we stoppped at the hanging gardens, a well groomed park for the comfortably off to relax and enjoy the flowers and the views. Here we met a bunch of lads from Kashmir who urged us to visit their beautiful region, assuring us that it was nothing like as dangerous as we'd been led to believe by the British press.
After this we asked our guide to take us somewhere where we could do some shopping. Perhaps based on seeing the episode with the balloons, our driver over estimated our wealth and kept taking us to some of the smartest shops we'd seen. Although these were certainly more relaxing than the markets of Kolkata, they weren't half as much fun and the prices weren't anything like as cheap. Still, we managed to get some leather goods and a couple of cricket bats.
Back to our room and we refreshed ourselves with some cup-a-soup, then out again for an evening sorte to the local market stalls. We had a facinating time inspecting local produce, Paul bought eight cotton shirts plus a Punjabi for Rs.500, then back to the room for some kip before the flight home tomorrow.
24/2/2006 Friday - We'd gone to bed last night a little concerned that there were no mosquito nets in our room. It soon became aparrent the the reason was that the air conditioning was so effective that despite the 40 degree temperatures outside, the temperature in our room was far too cool for mosquitoes. We both had to get up during the night for the extra blankets from the cupboard.
Got up in a bit of a panic, with Jacky running around the room shouting: "it's nine o-clock, it's nine-o-clock!" Fortunately, she'd mis-read her watch and it was in fact only eight. After a nice warm shower, we received a call from reception at nine to say that our complimentary car for the airport was waiting. We explained that we had not yet eaten breakfast and didn't plan to leave for the airport until ten. The receptionist said that was fine and within 30 seconds someone was at our door to take our room service order. The Midland is not in the same league as the Mayfair, which we'd stayed at in Darjeeling, but it certainly had no shortage of staff ready to do our bidding. We chose not to take room service and headed to the roof-top terrace for breakfast. We ordered tea for Paul, coffee for Jacky, fruit juice and toast and marmalade. Very nice, except for the marmalade, which was jam that we were convinced had been stolen from the middle of some jammie-dodgers (not great on toast). Fininshed breakfast and discovered that our complimentary car had just left with another couple for the airport. It would be back in ten minutes. Nearly three quarters of an hour later it turned up! Although we were well late for our required check-in 3 hours prior to departure, this didn't appear to be a major barrier to us getting on the plane.